Choose Orell & Eric Zaeske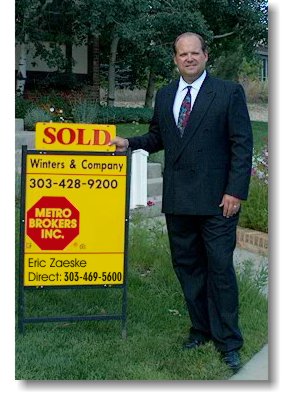 Your home is the most important and expensive purchase or sale you and your family will make during your lifetime, and choosing the right home can be a very emotional process. You need a Real Estate Professional with all the tools to assist you in finding that "Perfect" home in the right location, someone who truly cares about you and your very specific needs.
With a combined experience of 43 years in Real Estate Sales and Investments, Orell and Eric Zaeske are the Professional Team that will assist you in determining your specific needs and help you find that perfect home! As real estate investors ourselves, we understand the long-term value of owning real estate. Whether the property is for your personal use or as an investment, we also understand that the process of selecting the right home that meets your families needs is different for everyone.
Making sure we meet our customers needs is our number one priority. Over 80% of our business comes from satisfied customers. Many have used our services repeatedly for their real estate transactions, and tell their friends and family about the additional effort we took to make their dreams of owning a home a reality.
If you are in the market to buy a home, or are considering selling your existing home, please contact us. We will provide you with the same level of service that keeps so many customers coming back to us over and over again.
About Us
• Combined experience of 43 years In Real Estate, and Real Estate Investing
• Certified Residential Specialist
Areas Of Specialization
• Orell and Eric specialize in residential and investment properties in North Metro Denver
• We have lived in North Metro Denver for over 37 years.
• We also handle real estate transactions throughout the entire Metro area, including along the front range and mountain communities.
Recommendations
• Over 80% of Orell and Eric's business comes from referrals and from past clients.
• This is what our previous customers have to say about us: <coming soon>
Aren't All Real Estate Companies The Same?
Metro Brokers is Colorado's only statewide, broker-owned real estate network. For more than 26 years, we've been helping buyers and sellers in communities across the state make the most of their real estate transactions.
Metro Brokers is an association of independent real estate brokers who specialize in Colorado residential, commercial and investment properties. Our network of more than 1,500 highly experienced real estate professionals serves buyers and sellers in offices throughout the state.
Unlike most other real estate companies, Metro Brokers is actually owned by the people who serve you.
What Makes Metro Brokers Better?
It's not what but who. Metro Brokers is a group of hard-working, top-producing real estate professionals. With an average of 17 years of experience, most Metro Brokers have moved up from other companies to command their own businesses, serve their own clients and stand behind their own decisions. Each Metro Brokers' agent is fully licensed with the Colorado Real Estate Commission and belongs to a local Board of REALTORS® and the Colorado Association of REALTORS®. In addition, each agent adheres to Metro Brokers' own high standards of professionalism, integrity, knowledge and service.
Together, the Metro Brokers team offers unparalleled knowledge of and commitment to the Colorado real estate market.
What Will Metro Brokers Do For Me?
Metro Brokers is committed to making your real estate transaction as simple and stress-free as possible. We put your needs first, focusing on thorough market knowledge, effective communications and impeccable follow-through.
Each Metro Brokers' agent is readily accessible and attentive to your entire range of needs and concerns. Our job is to advise and guide you through every phase of the selling or buying process-representing your interests all the way through closing. We stay in close touch with you at every step, fully apprising you of all progress and any changes in your transaction.
You can count on your Metro Brokers agent to conduct all negotiations on your behalf.